Donald Trump recently placed a convoluted ban on immigration into the United States that has seen hundreds of travelers being held against their will at airports across the country. Trump's actions have incited outrage among the American populace, much of which believes the decision goes against the very core tenets of what it means to be American.
Trump has enacted this policy as a means to try and make good on his promises to keep America safe from Muslim terrorists, but the facts (real facts, not alternative) illustrate a much different picture than the one Trump is touting.
Here are five ways you are more likely to die than being attacked by Muslim terrorists:
Furniture, and other random causes
It might be hard to fathom, but terrorism is practiced mainly to inspire fear in a population or group of people. While we have horrendous examples of terrorism, such as 9/11 and the Paris attacks, that infuriate us to no end, the truth is that more people die every day from causes totally unrelated to terrorism.
For example, no one in the United States will be killed by a terrorist today. However, some will be killed by falling televisions or furniture. Others will suffer from a massive heart attack. A military veteran somewhere will end his or her own life. And when you're crawling into bed tonight, you will be no more the wiser about the 100 Americans who perished in car accidents during the day.
As professor emeritus at Princeton University, Daniel Kahneman, says: "[e]ven in countries that have been targets of intensive terror campaigns, such as Israel, the weekly number of casualties almost never [comes] close to the number of traffic deaths."
Gun violence
When we look at the number of deaths caused by terrorism in the United States compared to how many people died because of gun violence, it's not even really a comparison.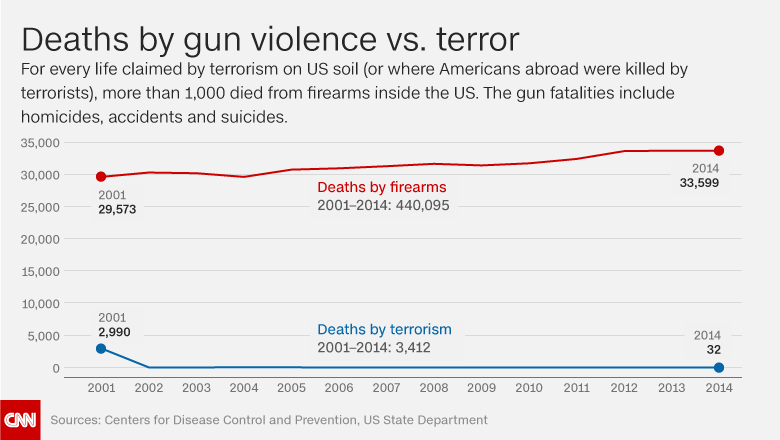 As you can see from the graph, from 2001 to 2014 there were 3,412 deaths attributed to terrorism in the United States. In that same time period, gun violence accounted for almost 34,000 deaths--which is about ten times as many.
Your own clothing
It's true. You have a much greater chance of dying from being hit by a train or having your clothes catch on fire than you do from being attacked by a Muslim terrorist. The chances of a refugee terrorist killing you? One in 3.6 billion.
"Of the 3,252,493 refugees admitted from 1975 to the end of 2015, 20 were terrorists, which amounted to 0.00062 percent of the total. Of the 20, only three were successful in their attacks, killing a total of three people," writes Cato Institute analyst, Alex Nowrasteh.
The Wind, Your Bed
76 people suffered wind-related deaths in 2011. That number increased to 104 in 2012. In the year 2000, one year before the 9/11 attacks, 357 people died in their beds because of accidental suffocation or strangulation. That means you're about four times more likely to die in your own bed than you are to be killed by a foreign national.
Bonus Fact!
"Far from being foreign infiltrators, the large majority of jihadist terrorists in the United States have been American citizens or legal residents. Moreover, while a range of citizenship statuses are represented, every jihadist who conducted a lethal attack inside the United States since 9/11 was a citizen or legal resident," reads the New America study.
"Since 9/11, no one has been killed in this country in a terrorist attack by anyone who emigrated from any of the seven countries," says William C. Banks, director of the Institute for National Security and Counterterrorism at Syracuse University College of Law.
What do you think about Trump's new foreign immigration policy?